"Sabra" Screening on October 24 in Burlington
Date & Time: October 24, 2015, 1:30 PM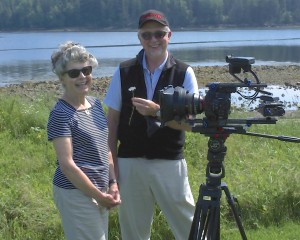 Place: Main Street Landing Black Box
60 Lake Street, 3rd floor
Burlington, VT
Price: Free ($5-$10 Suggested Donation)
"Sabra"
Documentary | 2015 | 57 min
Director: Bill Phillips | Exec. Producer: Bill Stetson
Former Vermont governors Howard Dean and Madeleine Kunin have called Sabra Field the state's best-known artist. Sabra explores her popular work, but also less well-known prints – some springing from a joyous sense of play, others from intense personal tragedy.
Sabra will be present at the screening. The filmmakers will be present for a post-screening Q&A. Special thanks to Ben & Jerry's for sponsoring the VT Filmmakers Showcase.
The screening will be followed by a reception in the Lake Lobby. Wine and snack. Reception sponsored by Bill Stetson.